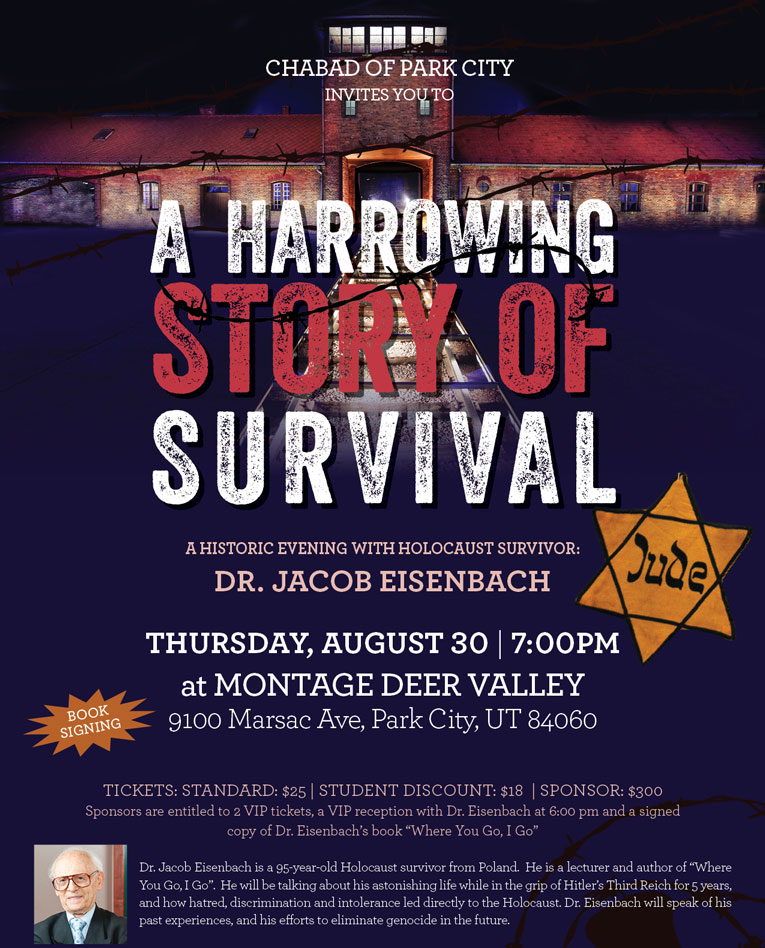 Chabad of Park City proudly welcomes 95-year-old Holocaust survivor, Dr. Jacob Eisenbach.
Dr. Eisenbach emigrated from Poland to the United States with his wife and first-born child in 1950. He has practiced dentistry for 60 years until his retirement in 2015. He is a lecturer and the author of "Where you go, I go".
On August 30, Dr. Eisenbach will speak about his astonishing life while in the grip of hitler's third reich for 5 years and how hatred, discrimination and intolerance led directly to the holocaust. He is the sole survivor of a loving extended family of 100. Torture and mass murders of numerous ethnic groups throughout thousands of years have scarred mankind's history. It is Dr. Eisenbach's mission to eliminate the scourge of genocides from the human race.
He will answer audience questions at the end of his presentation.
Shortly after the Nazis took control of Poland, barbed wire and watchtowers were built in Jacob Eisenbach's hometown of Lodz, containing 300,000 Jews within a prison-like ghetto. Anyone who tried to escape, would be shot on the spot.  
Eisenbach's mother died before the war broke out. His sister fled to a Soviet-occupied village but was killed during a Nazi invasion. His youngest brother was put to death at the Auschwitz concentration camp. His father was forced to carry heavy boulders at a labor camp until he died from exhaustion.  

That left Eisenbach and his brother, Sam. The brothers were ultimately loaded into a cattle car with other young Jews and taken to a munition factory in Skarzysko, Poland. Their job: to take over the jobs of German factory workers called up to fight in the war.

Finally, with little fanfare, the workers learned that Poland was liberated. His brother Sam changed his name, joined the Polish Army and quickly rose through the ranks to become a colonel. Eventually, he was fatally shot by fellow soldiers who found out he was Jewish.

After the war, Dr. Eisenbach married a fellow survivor, Irene, became a dentist and built a successful business in Los Angeles. He has three sons, three grandchildren and two great-grandchildren.  
Reserve Online